Top

Greetings from the Director

Foundation background



Project Overview



Research staff



WABOT-kun and The Book of Wabot



Wabot Research Group



House Research Group



Information Communication Research Group



Research Group for Regional Exchange and
@ Industry Creation



Contact Information
About "The Book of Wabot"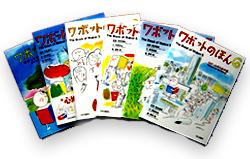 @The WABOT-HOUSE Laboratory has published a concept book titled gthe Book of WABOTh to inform our research themes and goals clearly to everyone.

About "WABOT-Kun"

@
gWABOT-kunh is the official mascot of the Laboratory.

Prof. Ken YABUNO (Art and Architecture School of Waseda University) has designed him to the selected official mascot.

WABOT-kun is already an integral part of our public relations and you will meet him often at our activities.

In the future, you may expect to hear a lot more about WABOT-kun in Gifu and around the world.